Calgary has long been known as an energy city and today, is being recognized as a leader in the global energy transition. Alberta is Canada's largest oil and natural gas producer. The province also boasts some of Canada's best wind, solar, bioenergy and geothermal resources. Digital transformation (DX) is quickly becoming the largest driver of new solutions and technology investments by energy companies. It is forecasted that Calgary's energy sector will spend $2.3 billion on DX between 2022 to 2024.
Alberta Energy Transition Study
Calgary and Alberta are uniquely positioned to lead Canada's energy transition with a strong cleantech innovation ecosystem, a history of industry collaboration and investment, and a pool of specialized talent. Learn why Calgary's strengths and differentiators position our city as a global hub for cleantech innovation.
Download Calgary Fact Sheet
Download Alberta Fact Sheet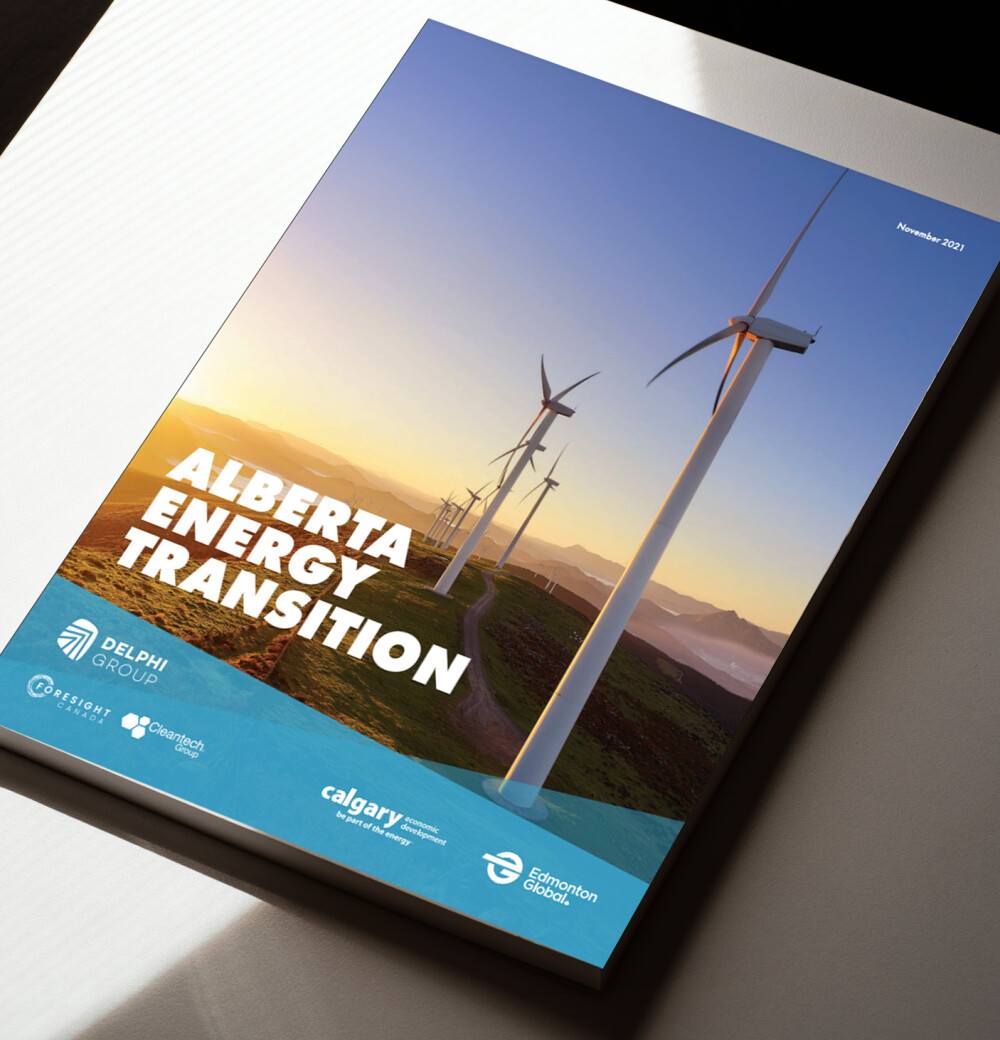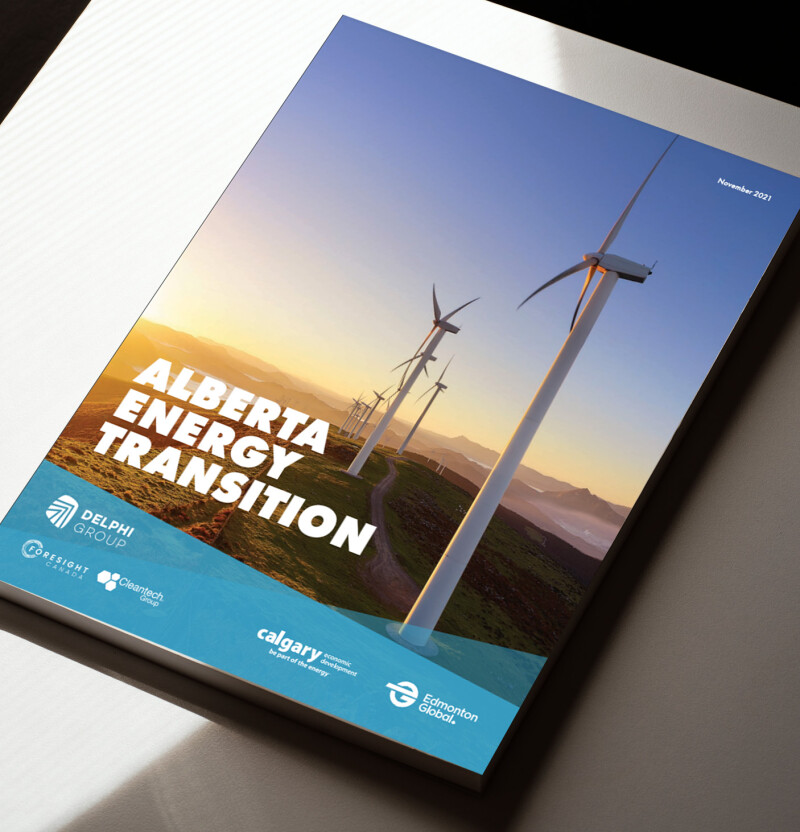 The epicentre of Canada's energy sector
Calgary is home to head offices of almost every major company throughout the energy-value chain. Key players in renewables also call Calgary home.
ABUNDANT NATURAL & RENEWABLE RESOURCES
Alberta is home to roughly 3/4 of Canada's crude oil and natural gas production, and has the 3rd largest crude oil reserves in the world. More than 35% of Alberta's land base has a wind resource considered viable for energy production, and Calgary is Canada's sunniest major city, with 333 days of sunshine per year.
Alberta has the second highest installed solar energy capacity in Canada and ranks third in Canada for total installed wind capacity in 2022. The largest solar farm in Canada is also under development and once built will power 100,000 homes with 400 MW of power from 1.5 million photovoltaic solar panels.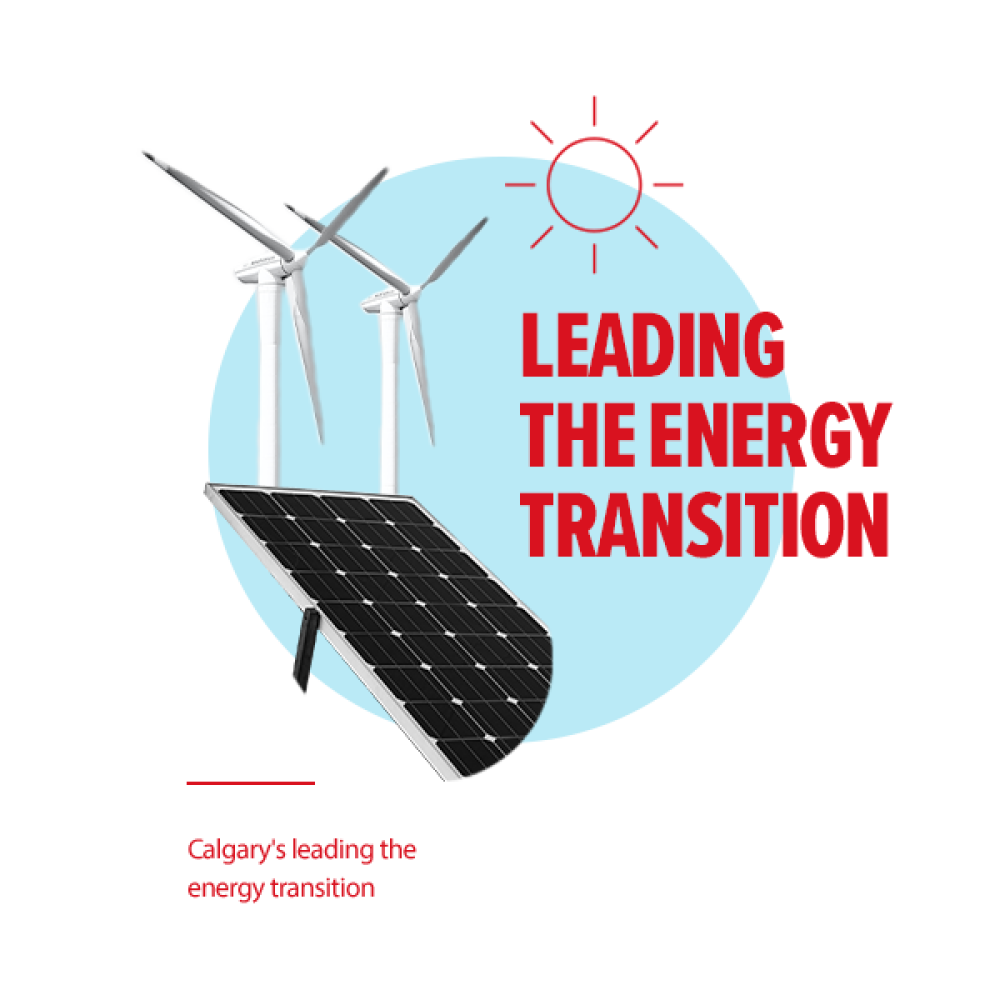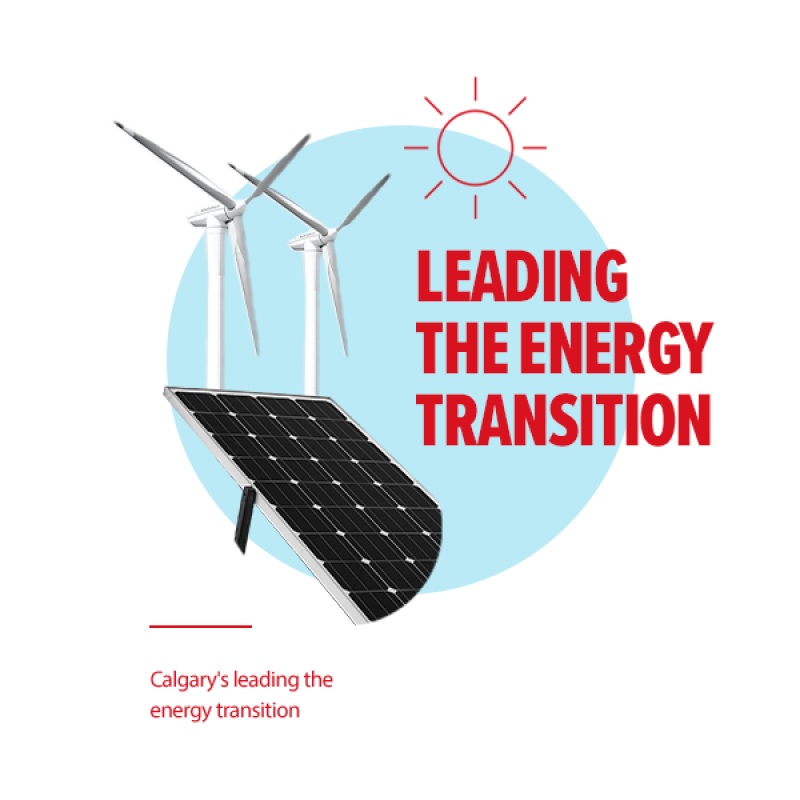 Leading the
global energy transition
Alberta oil and gas, renewable energy and cleantech companies are focused on decarbonization and developing world-class technology to compete on environmental performance, lead digital transformation projects and create new value-added products.
Towards A Fuel Hydrogen Economy in the Calgary Region
Calgary and Alberta are "superbly positioned" to be leaders in the hydrogen economy. Authored by The Transition Accelerator for the Calgary Region Hydrogen Task Force, this study demonstrates the Calgary region's potential as a major hydrogen hub. Learn more about the $4.6 billion per year hydrogen market potential for Calgary in a net-zero future.
Download Full Report
Download Fact Sheet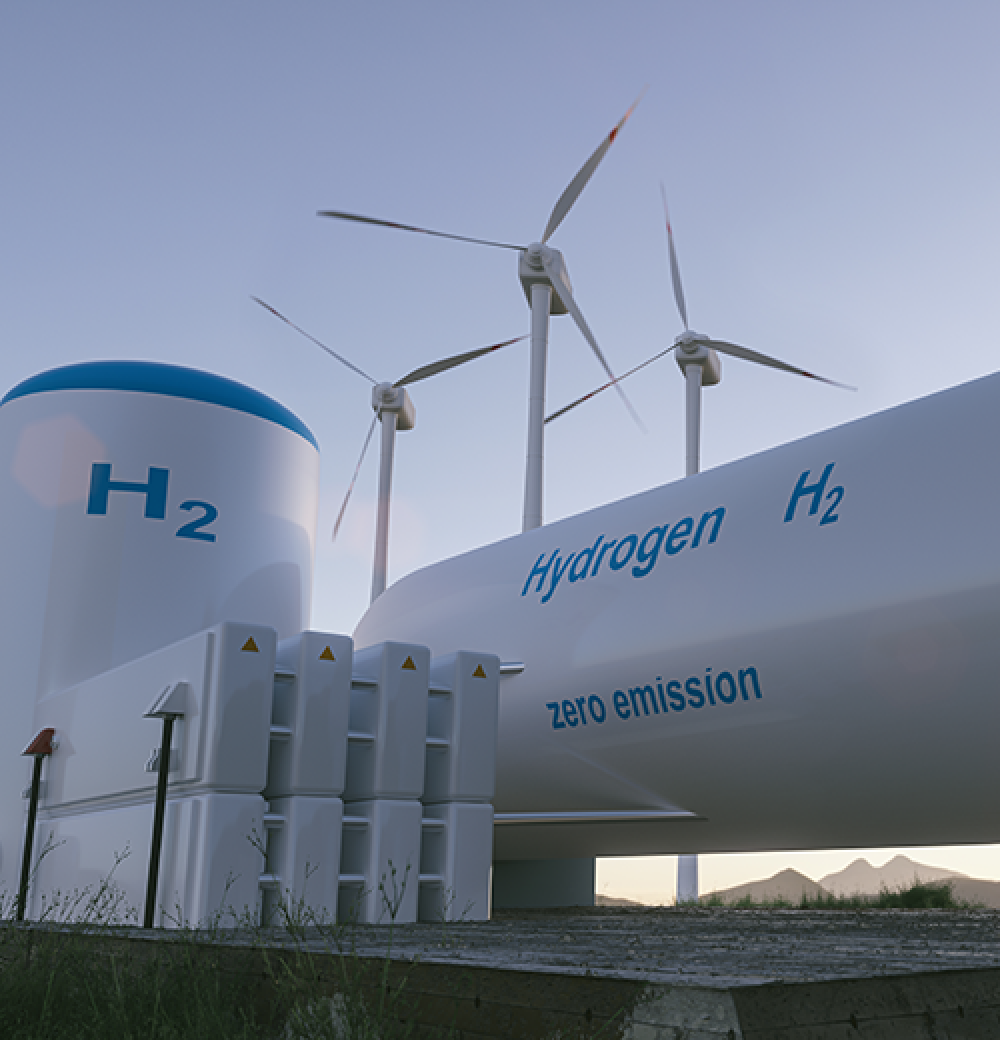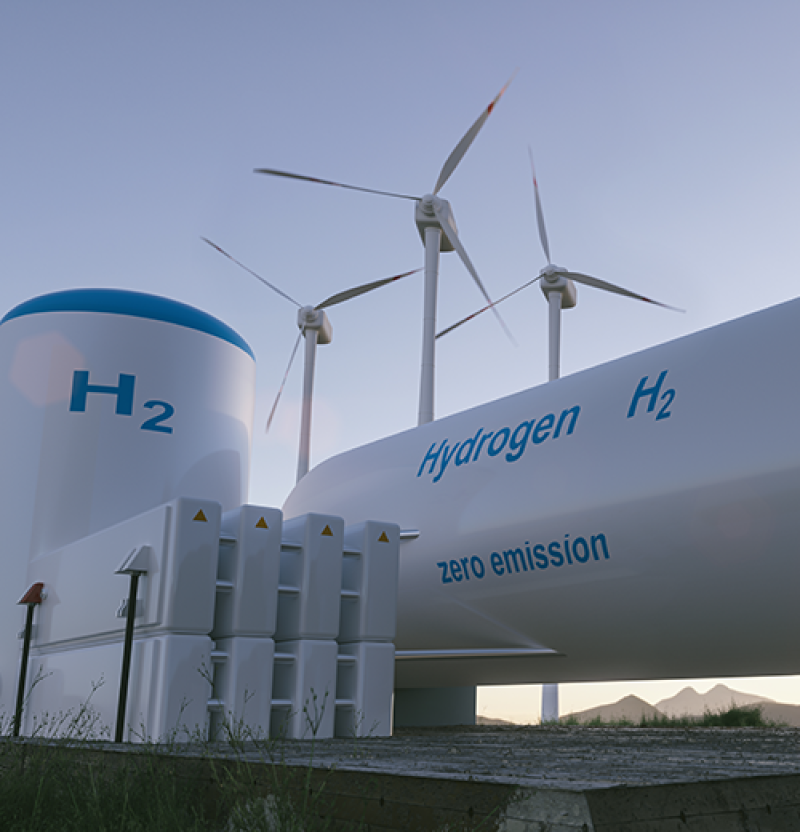 Investing in digital transformation
The digital transformation (DX) spend in Alberta's energy and environment sector is projected to be $5.8 billion by 2024. This represents 1/4 of Canada's energy and environment (utilities, renewables, oil & gas, cleantech) DX investment. See how energy & environment is leading digital transformation on our DX spend dashboard.
Learn More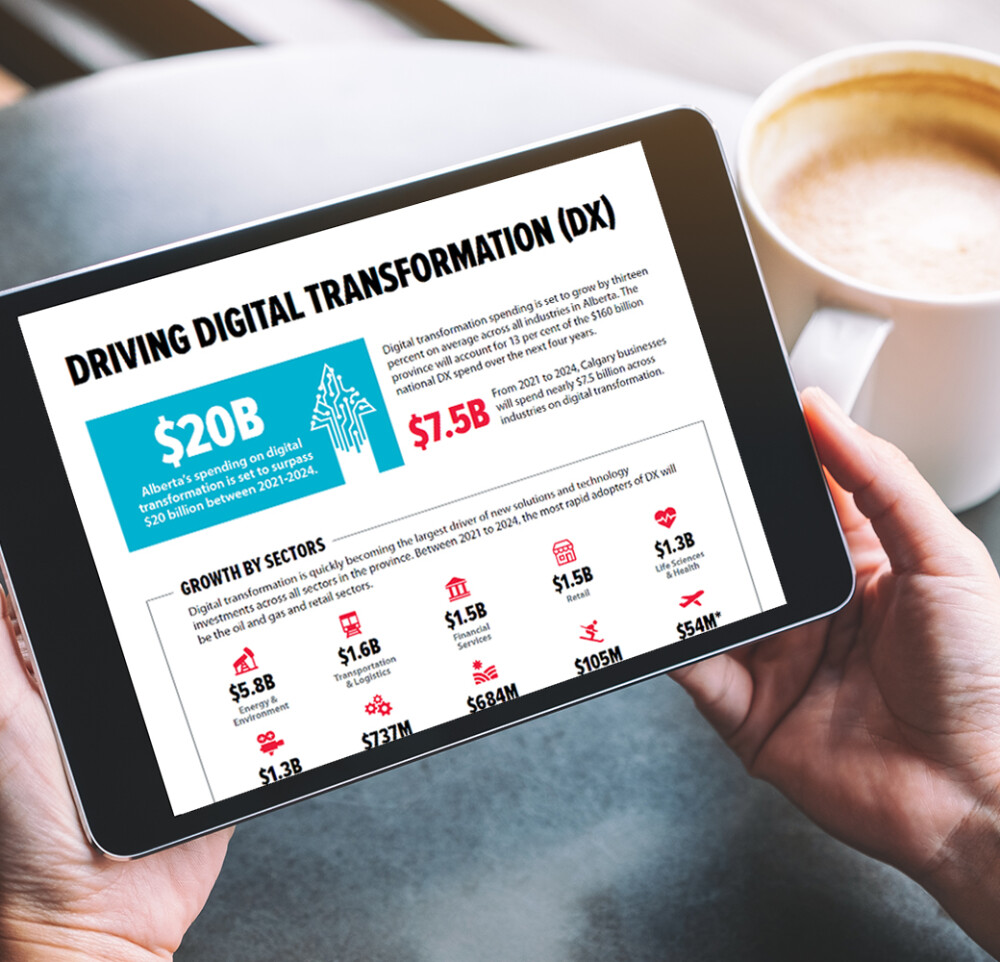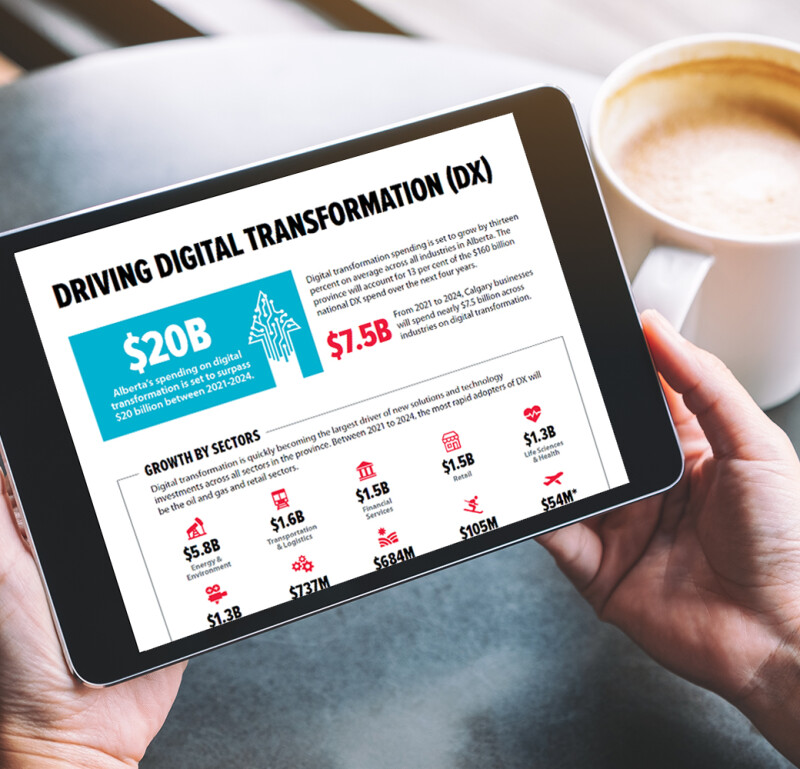 Calgary is an opportunity-rich city.
Our interactive investment map highlights the foreign direct investment (FDI) that has taken place in the Calgary area over the past 6 years.
Explore Investment in Calgary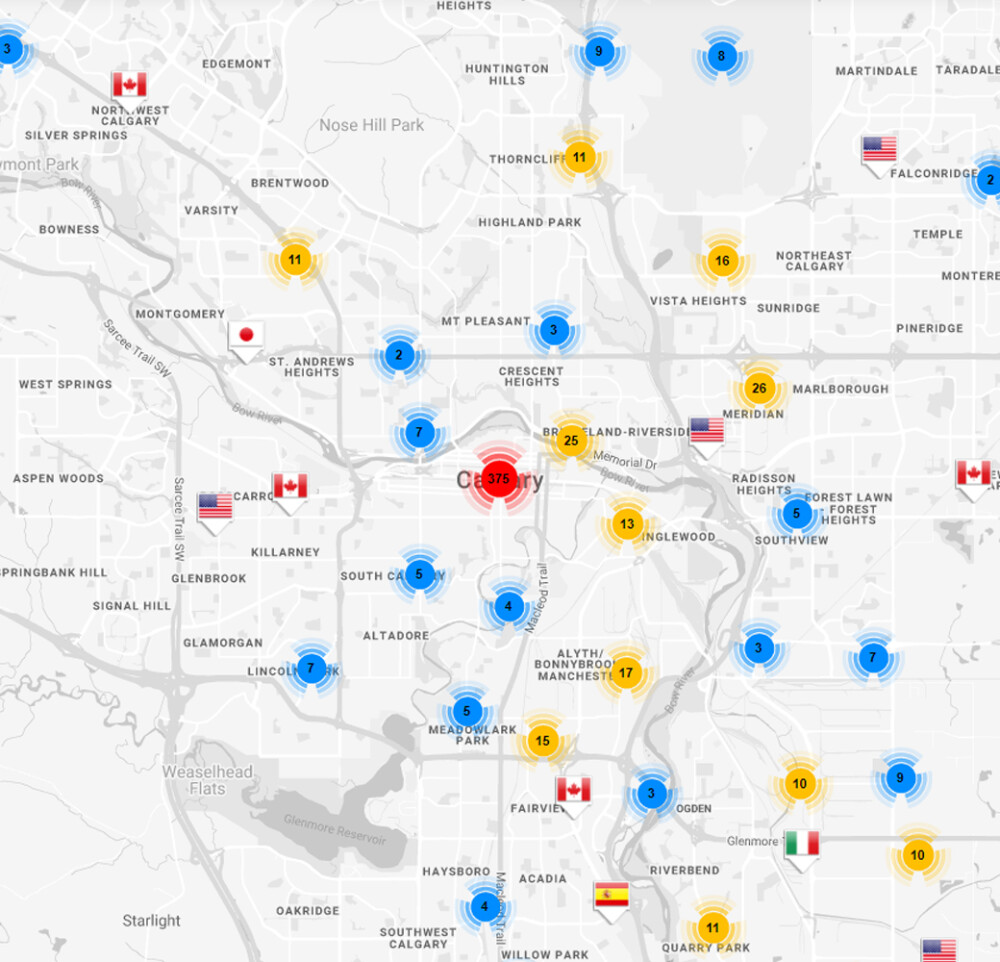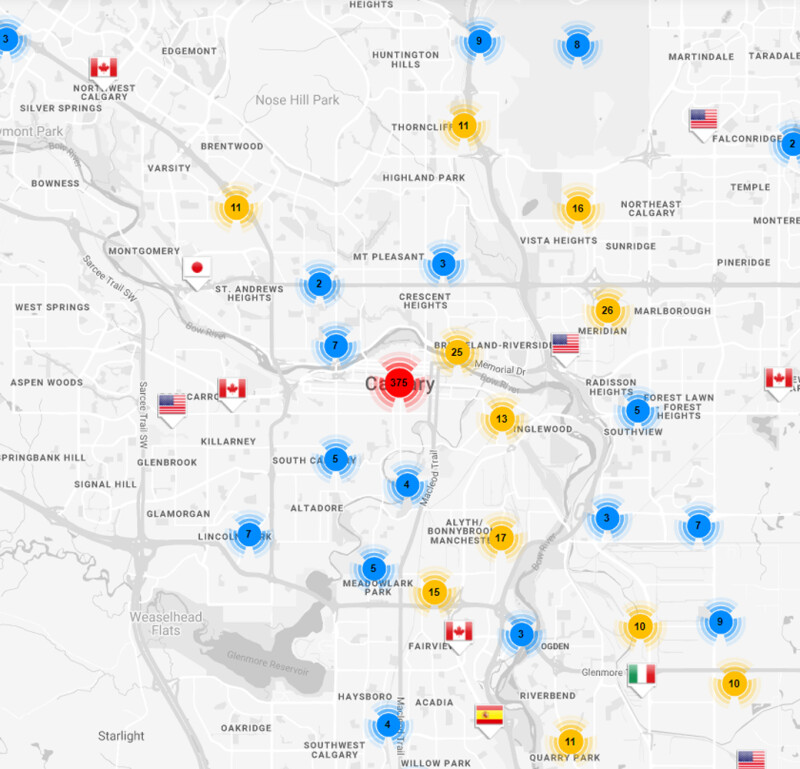 Cleantech
Cleantech could represent a $3.8 trillion economic opportunity globally by 2030 (ACTia, 2019). Calgary was ranked a top 30 cleantech ecosystem out of 286 cities by Startup Genome (2021).
Emerging strengths in delivering innovation in oil and gas, electricity, food and agriculture, are improving the competitiveness of Alberta's leading economic sectors and companies while exporting solutions to the world.
Leaders in cleantech
innovation
To be competitive going forward, oil and gas producers will need to continuously strive to lower costs, improve productivity and be leaders in environmentally-responsible development. Innovation will be essential to future success. These companies are creating solutions to these challenges, right here in Calgary.
Industry-led
innovation
2021 marked a significant milestone for the oil and gas industry in Canada when six of the largest oil sands producers came together to form the Pathways Alliance, embracing the critical role the industry plays in helping meet the national commitment of net zero emissions by 2050. Through collaboration, innovation and technology, they're working to ensure the oil sands can offer Canada, and the world, a sustainable product and a higher degree of long-term energy stability and certainty.
Fostering Ag Innovation
Alberta ag-tech ventures Livestock Water Recycling and First Pass Technologies are two of the eight finalists selected for the $1.25 million Nutrien-Radicle Challenge Canada, established to transform the speed of agricultural innovation.
World's First Micro Scale Carbon Capture System
Calgary-based CleanO2 won the 2019 JWN Energy Excellence Award and the 2019 Nature Inspiration Award from the Canadian Museum of Nature and supplies customers including Lush Cosmetics, FortisBC, Pacific Northern Gas, ATCO and Union Gas.
Alberta's Largest CleanTech Exit
In 2017, water pipeline technology and inspection company Pure Technologies achieved the largest exit in Alberta cleantech history, selling for over $500 million to New York-based Xylem Inc.
Mentoring Success
Creative Destruction Lab-Rockies launched in 2017, helping Alberta cleantech ventures including IoT play Ingu Solutions, blockchain-enabled ReWatt Power and novel water treatment play Swirltex raise over $14 million in funding. CDL-Rockies launched an energy-specific cohort in 2018.
Want to learn more? Get in touch
Contact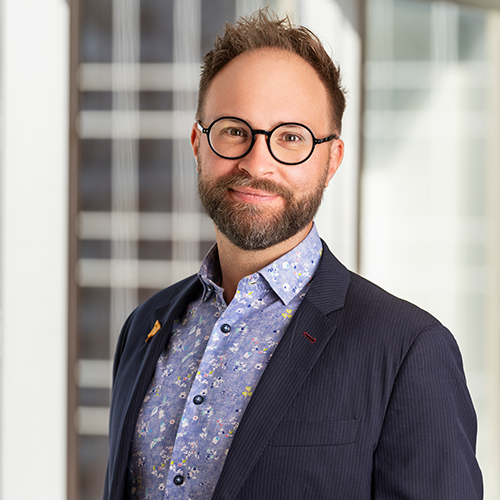 Stephen Cardon
Business Development Manager, Energy & Environment