Bright minds and big ideas convene on November 1 at Calgary's signature economic forecast and networking event, 2024 Economic Outlook, hosted by Calgary Economic Development and powered by ATB.
Experts and leaders in economics, monetary and public policy will join with Calgary's business community to answer the question: is Calgary poised to navigate economic headwinds and experience growth in 2024?
For a glimpse of what to expect at the event, we sat down with keynote speaker Mark Parsons, Chief Economist of ATB.
Why should Calgary's business community attend 2024 Economic Outlook?
Our world continues to change very quickly. From the 2015 and 2016 recession, to market access challenges in 2019 and the unprecedented COVID pandemic in 2020, our economy has faced challenges but came back strong.
It's critical for leaders, business owners and Calgarians to stay on top of emerging global trends – which is what 2024 Economic Outlook is all about. At this event the community comes together to reflect on the last year and gain understanding of trends expected in 2024.
I'm looking forward to giving a timely pulse-check on the state of the economy, specifically from an Alberta-based perspective.
What macroeconomic trends will you explore in your keynote address?
I'll talk about the key forces impacting Alberta's businesses today.
Top of mind for many Albertans are higher interest rates, inflation and the global forces shaping the province's major exports. I'll share how these trends are impacting the economy, and what business leaders can expect as we head into the next year.
Alberta has experienced major demographic shifts with higher net migration numbers than other provinces. I'll explore what this means for the labour and housing markets.
I'll speak about the emerging growth areas for the province in sectors ranging from aviation to technology – and also diversification within the energy sector as the industry increasingly adopts emission reduction practices.
What role does collaboration play in building a resilient local economy?
It's important to recognize that here in Alberta, we have shared challenges and opportunities – and no one person or organization can tackle them alone.
So, creating opportunities that encourage the meeting of the minds at events like 2024 Economic Outlook will identify pathways for Alberta to continue to show up as a major global player. How can Alberta address global food and energy security challenges, be a leader in emissions reduction technology and grow its emerging sectors?
How does data, technology and artificial intelligence (AI) help ATB develop economic insights?
Economic forecasters cannot look just at one set of tools – we must consider models, historical trends, current data and connect with other experts to develop insights. At ATB, we're increasingly automating data analytics, which leaves us more time to develop insights.
For example, by examining daily and monthly consumer trends from the ATB Mastercard, we are leaning into real-time data as opposed to relying solely on more traditional information sources, which are more dated. Using AI to 'now-cast' in close to real time is a huge opportunity for the forecasting profession.
With Alberta's dynamic economy, it's even more important to look beyond traditional economic models and talk to community members and experts – which is why events like 2024 Economic Outlook are so important.
What three themes will you touch on at 2024 Economic Outlook?
Albertans want to know three things. Are we headed for a soft or hard landing in our inflation battle? Where will Alberta be in the next 2-3 years? How can I plan for 2024?
I'll touch on all these questions in my address to empower attendees to anticipate risks and plan for a variety of possible scenarios.
Tickets are now available for Calgary Economic Development's 2024 Economic Outlook, powered by ATB. Get your tickets today and join the conversation on November 1 with your colleagues and community partners.
For insights into Calgary's economic strategy for 2024 and beyond, learn more about the vision to create long term prosperity and opportunities for all in Calgary in the New Economy.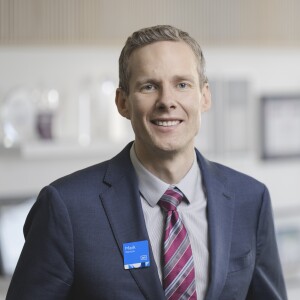 Mark Parsons is Vice President and Chief Economist of ATB.