We've curated a list of FAQs to answer questions around the Calgary in the New Economy 2021 community engagement process. Please check back regularly as this page may be updated periodically with new information.
Who is Calgary Economic Development?
Calgary Economic Development is Calgary's economic development agency whose mission is to collaborate to advance opportunities to achieve economic success, shared prosperity and build a strong community for Calgary.
Calgary Economic Development works with business, government and community partners to attract business investment, foster trade and grow Calgary's workforce by positioning Calgary as a location of choice.
What is Calgary in the New Economy?
Calgary in the New Economy is our city's economic strategy. It provides a future vision for Calgary: to be the city of choice in Canada for the world's best entrepreneurs who are embracing advanced technology to solve the world's greatest challenges: cleaner energy, safe and secure food, efficient movement of goods and people, and better health solutions. Calgary in the New Economy is primarily focused on seven sectors with the greatest potential to support sustained economic growth and job creation in Calgary and region: energy and environment, agribusiness, transportation & logistics, tourism, creative industries, life sciences and financial services.
The economic strategy is structured across four pillars or focus areas: talent, innovation, business environment and place. While each pillar has its own ambitious vision, described below, the biggest benefits to Calgary's economy occur when all the areas work together to create sustained economic growth.
Talent:

To be Canada's destination for talent.

Innovation:

To be Canada's leading business-to-business (B2B) innovation ecosystem.

Business Environment:

To be Canada's most business-friendly city.

Place:

To be Canada's most livable city.
What role does Calgary Economic Development have in Calgary in the New Economy?
Calgary Economic Development is the steward of Calgary in the New Economy. This means Calgary Economic Development is responsible for ensuring the community is making progress to achieve the vision of the economic strategy.
That said, Calgary Economic Development is not the only organization actively working towards the vision. Calgary Economic Development works with other civic and community partners on each pillar of the strategy, in particular the talent and innovation pillars. The City of Calgary's Business and Local Economy team leads the business environment pillar and numerous community stakeholders contribute to the place pillar.
What work is Calgary Economic Development undertaking in 2021 related to Calgary in the New Economy?
Calgary Economic Development is undertaking the following work to evolve the economic strategy:
Define what we want to achieve (outcomes) and how we will know when we've achieved it (ways to measure progress) for each pillar or focus areas;

Create tangible economic impacts to describe what Calgary could look like when we achieve the strategy's vision;

Pressure test the strategy against global dynamics such as increasing focus on environment, social, governance (ESG), equity, diversity, and inclusion (EDI), future of the workforce and workplace, accelerated digitalization, energy and food supply independence; and,

Raise community awareness of

Calgary in the New Economy

and mobilize the community to achieve the vision.
As a result of this work, Calgary Economic Development hopes:
Calgarians know the strategy is resilient and remains relevant when tested against global dynamics described above.

Calgarians have a sense of ownership and belief in the vision.

Calgarians are empowered to act in achievement of the vision.

Calgarians can tell stories about economic and community progress to the rest of Canada and the world.
Engagement of business, government, and community stakeholders is critical to the success of this work.
If I choose to participate, what type(s) of stakeholder engagement can I expect?
To conduct the work described above, Calgary Economic Development will facilitate stakeholder engagement across various mediums and forums that may include digital surveys, focus groups, workshops, interviews, town halls, outreach on social media and other presentations.
Calgary Economic Development developed a survey to begin a conversation about how together we can foster the prosperous and inclusive economy we all want. This survey is the first step in the community engagement process and is open to all Calgarians to complete. To complete the survey please click here.
Calgary Economic Development intends to conduct targeted outreach and engagement between June 2021 and October 2021. But we want you to know this outreach is only the beginning. This is the beginning of a long-term relationship with you and your community. We value all the communities in our city and strive for everyone to know they are contributing to Calgary's economic future.
What will Calgary Economic Development do with my input?
If you and your community choose to participate, Calgary Economic Development will use the feedback and input to inform the 2021 evolution of the economic strategy. It is Calgary Economic Development's intention to use these engagement opportunities to mobilize the community and help communities see themselves as key players in Calgary's future prosperity. Importantly, Calgary Economic Development will keep your community informed of progress throughout our work and will send the final output to your community.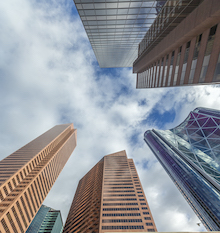 Contact
For further questions, please contact Karen at YYC Strategy.
Contact